Source: Investing
Author: Alex Boltyan
Article: Original article
Date of publication: Thursday, November 10, 2022
The EUR/USD pair rose to a new two-month maximum on Thursday after the publication of lower-than-expected U.S. consumer inflation data. This data points to less aggressive action by the FRS at the meeting in December.
The U.S. Bureau of Labor Statistics published consumer price index data for October. Overall CPI inflation rose by 0.4% in October, while annualized inflation was 7.7%, which is much lower than market expectations of 8% and below the 8.2% figure for September. Meanwhile, core inflation, which does not include food and energy prices, was 0.3% per month and the annual rate was 6.3%, which is lower than the expected 6.5%.
Markets are starting to set a 50 basis point FRS rate increase for the December meeting. According to WIRP, market participants are now betting on an 80% probability of a half-percent increase, compared to a 56% probability on Wednesday. Previously, the main forecast indicated a rate increase by 75 basis points.
The U.S. dollar weakened against the majority of currencies due to a strong decline in Treasury bonds yields across the curve.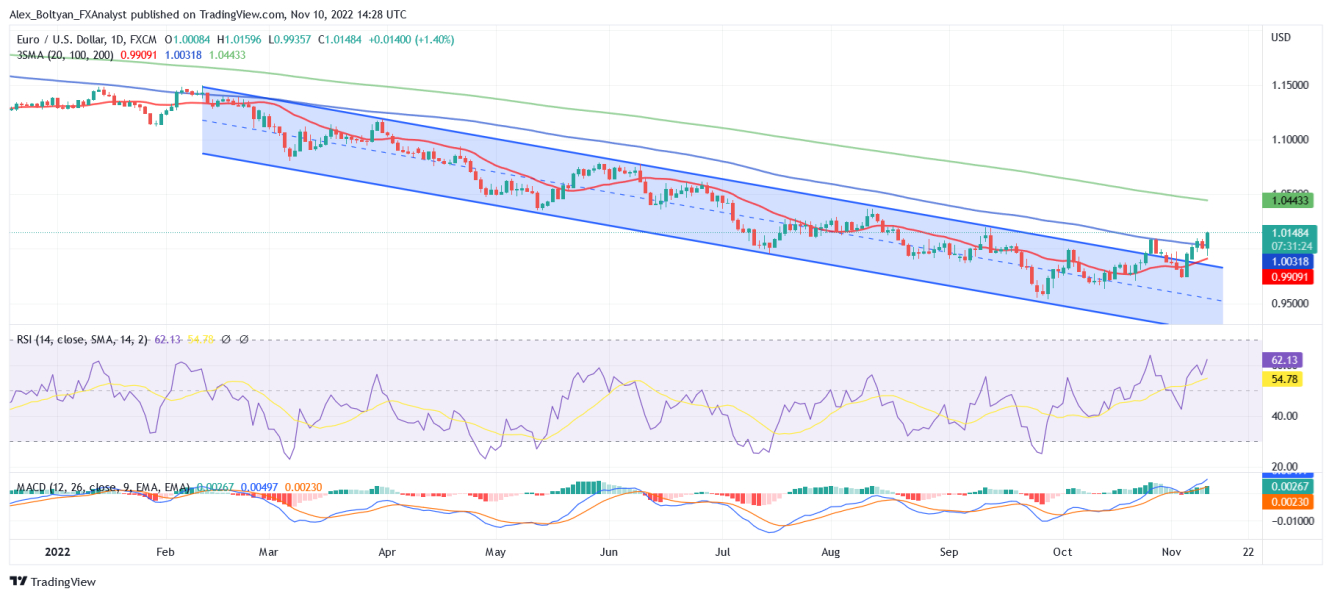 EUR/USD daily chart
From a technical point of view, the short-term forecast for the EUR/USD pair has improved as its indicators are getting stronger on the daily chart. The RSI is above its average line and moving north, not showing signs of weakening for now, while the MACD indicates that buyers have the situation under control.
On the other hand, breaking above 1.0100, after resistance levels, the EUR/USD pair can go for an attack on the monthly maximums at 1.0368 in August, respectively.
Forecast:
On the basis of the current euro rally, rising to the level of 1.0368 can be seen. Technical indicators also show the strength of the current movement.