Soaring COVID infections in China keep people at home and cause a downturn in the travel industry and economic activity, decreasing fuel demand. After the recent removal of anti-COVID restrictions, many cities suffered from a wave of infections. This doesn't allow the people in Beijing, Shanghai, and other cities to go out on the streets.
Several indicators of geographic mobility have decreased, such as the number of traffic jams, domestic flights, and subway rides.
The opening of the Chinese economy may be delayed as the people haven't developed herd immunity. As a result, the economy will be weak for a period, and this will make the authorities use a new stimulus for the economy. This process will hurt the dynamics of the Chinese yuan. Analysts also confirm our thoughts.
Reuters analyst John Kemp says that the recovery of China "will increase the oil consumption by more than 1 million barrels per day", but first, China will have to "go through another wave of disease." This wave will temporarily decrease oil consumption. Kemp's analysis offers two scenarios. The first one is an uncontrollable wave of decline lasting from 2 to 4 months, and the second one is an uncontrollable wave lasting from 3 to 6 months.
The Chinese stock market confirms the upcoming problems in the currency market.
The stock index of China couldn't rise on Friday even though officials, as reported, were planning to remove more anti-COVID restrictions next month.
Shanghai Composite Index fell almost to the level where it had been shortly before authorities started to revoke the restrictions on November 11.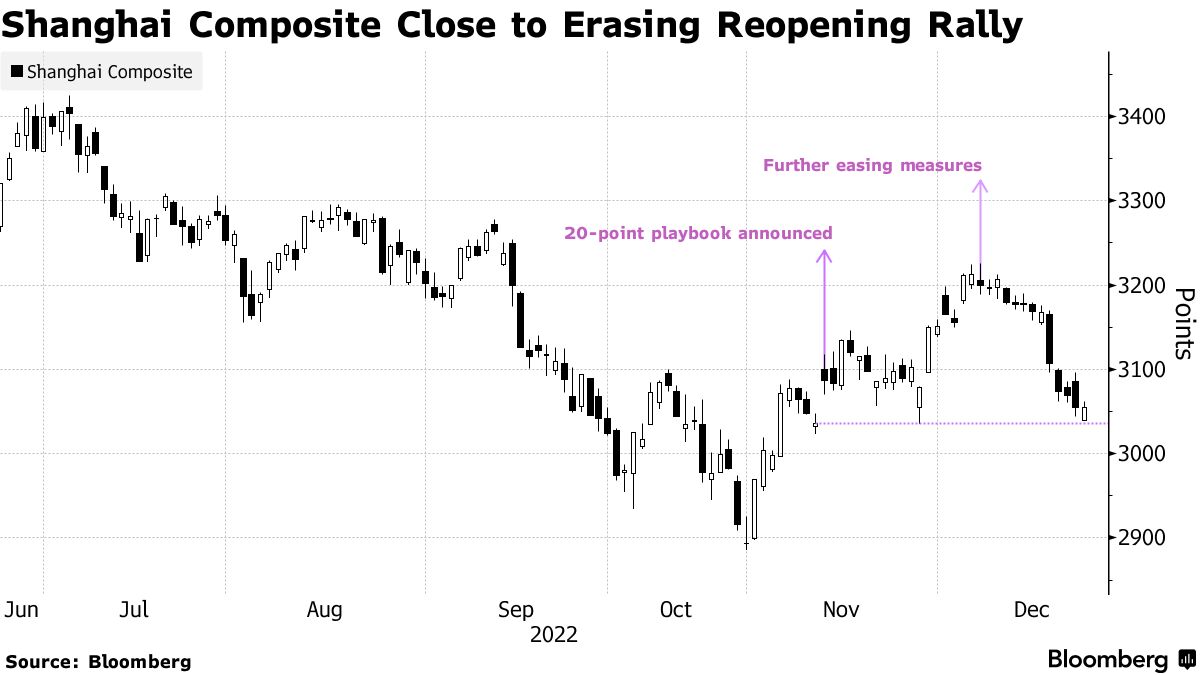 Shanghai Composite Index
According to technical analysis, USD/CNY moves upward from the flat, it was fixed above the 200-Hour Moving Average. Together with the news background, continued growth is the most likely scenario. The target of the movement will be the "neckline" of the head and shoulders technical pattern, which was realized earlier in the Chinese yuan. This is a 7.05 level.
The stop-loss should be placed near the low border of the flat, a bit lower than the emerging uptrend, the level of 6.95. It would be safer to place a stop-loss behind the flat lows, but we won't do that. The profit /risk ratio, in this case, won't be in our favor at all.
Growth of the USD/CNY currency pair:
Take profit — 7.05
Stop-loss — 6.95