Source: Investing
Authors: Fawad Razaqzada
Article: Original article
Publication date: Thursday, November 10, 2022
The Canadian dollar is drawing a reversal today as oil and risky assets have come under pressure. Meanwhile, the U.S. dollar is rising across the board after a recent correction.
This results in an uptrend of USD/CAD and could cancel the head and shoulders pattern that was created a few days ago.
If we move up and hold above the 1.3500 neck area, it would cause concern for the bears. We could then see a sharp rally to levels where bullish stops could halt.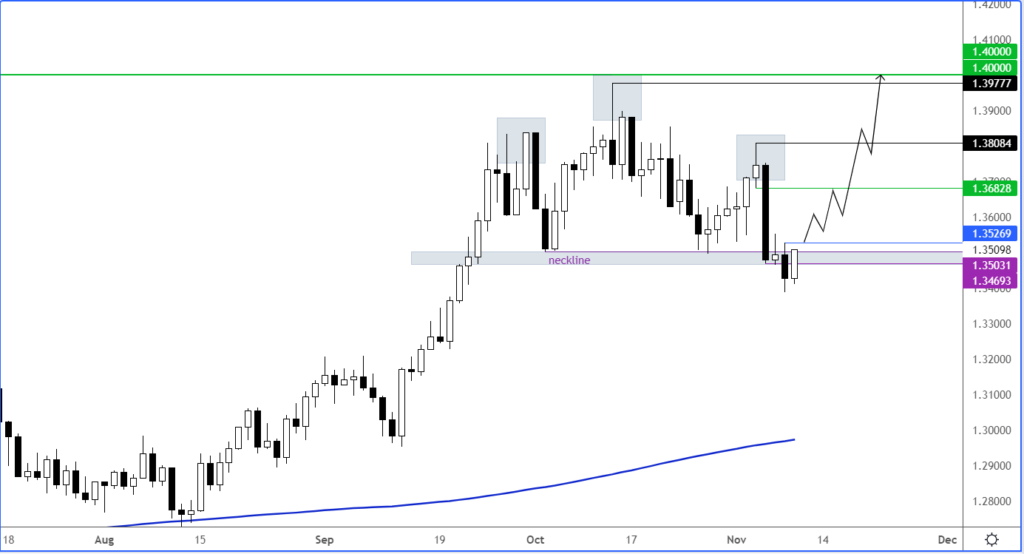 USD/CAD Chart
If everything goes as I have described above, then the first target would be around 1.3682, the base of the breakout down in the right shoulder area. Thereafter, we may see a potential move above the level of 1.3810, where the stuck short stops will rest, and perhaps even 1.40, above the head and shoulders pattern.
Forecast:
A weakness in oil along with a correction in world markets is a trigger for USD/CAD to rise. Therefore, there is an opportunity to open long positions in the USD. The first target of this reversal may be the level of the shoulders of this technical pattern 1.38.